From Drab to Fab: Transforming Your Bathroom and Kitchen with Great Design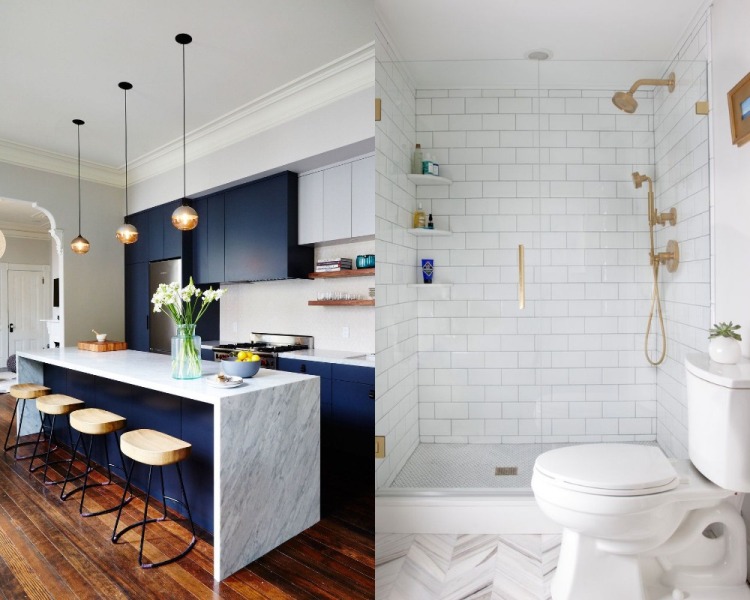 Have you ever walked into a bathroom or kitchen and thought it was drab, boring, or just plain dull? It doesn't have to be that way! A little extra effort in the form of great design can turn any bathroom or kitchen into a fabulously stylish living space that you'll love spending time in. Whether it's an entire remodel or simply replacing fixtures and fittings, bathroom and kitchen design has come a long way and there are many options to choose from when it comes to revamping your living areas.
When it comes to bathroom design, modern technology has completely changed the landscape. Luxurious deep soaking tubs are perfect for those looking for ultimate relaxation and comfort. Steam showers are quickly becoming a popular choice for those wanting both rejuvenation and serenity. With high-tech showerheads like rain showers, massage jets, body sprays, hand held showers and more, you can customize your experience. And don't forget about lighting – modern lighting designs can add drama as well as practicality.
In terms of kitchens, appliances have seen huge advancements in the past few years with energy-efficient features like built-in controls that ensure optimal operation while saving water and electricity. Cabinets are now available in all shapes, sizes and finishes so you can get exactly what you need – including organizational solutions like pull-out cabinets, drawers on tracks or rotating racks for spices – helping to make sure every inch of your kitchen is utilized efficiently.
Countertops have also been transformed with materials like quartz or granite giving a luxurious look while meeting practical needs (durability, heat resistance etc.) It is also possible to mix materials on countertops such as ceramic tiles combined with natural stones such as marble or soapstone adding an additional dimension of personalization. Finally there is glass tile backsplash which offers an elegant look with its unique patterns – making even the simplest design standout visually.
If you're looking to freshen up your bathrooms and kitchens but don't want full remodeling just yet then consider simple upgrades such as installing new faucets which will give an instant transformation – satisfying all budgets as faucets come in all prices ranges from budget friendly models all the way up luxurious designer pieces. Keep in mind though that regardless of the size of your project having certified professionals carry out work ensures safety standards along with quality craftsmanship.
So if you have decided that it's time to say goodbye forever to drab bathrooms and kitchens then get started by creating yourself a vision board filled with ideas gathered from magazines ,social media websites plus catalogues — so you start off on the right foot towards achieving stunning results while sticking within budget constraints should they exist . After creating this board ,the next step would be finding a professional who will help bring your visionboard dream into reality! So why not take this opportunity today start working in transforming your bathrooms & kitchens into comfortable & beautiful living spaces !!
Luxury and Functionality: The Perfect Blend in Bathroom and Kitchen Design
The Art of Balance: Creating Harmony in Bathroom and Kitchen Design
Archives
2023
2022
2021
2020
2016
2015