Custom Bathroom Cabinets, CA
Transforming Bathrooms for Over Three Decades
At Castle Remodeling, it is our team's goal to provide Agoura Hills' residents with outstanding kitchen and bathroom services amenities such as Custom Bathroom Cabinets.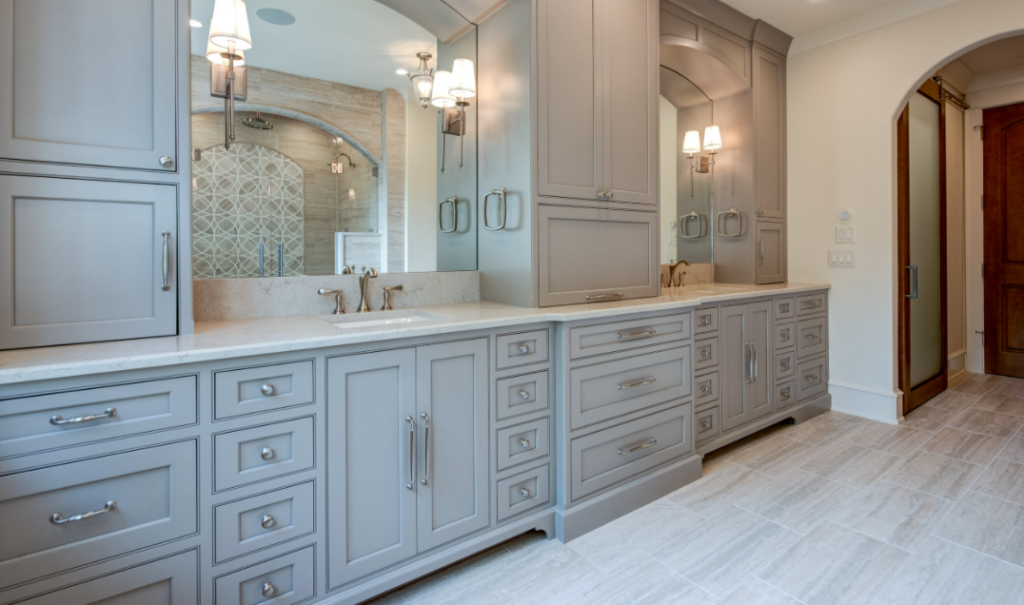 We specialize in every aspect of kitchen and bathroom remodeling, including custom bathroom cabinets.
Our company has the products and tools needed to create gorgeous, one-of-a-kind bathroom cabinets at our warehouse, so you can rest assured your cabinets are created by state-of-the-art machinery and highly-trained individuals.
When you order bathroom cabinets through Castle Remodeling, you can decide on the following:
Style

Finish

Design

Storage & specialty features
We can create bathroom cabinets for any size bathroom.
Our skills are not limited to bathroom vanities.
We can also make other types of bathroom storage cabinets, including towel cupboards and over-the-toilet storage.
Create a Personalized Bathroom Oasis with Custom Vanity Cabinets in California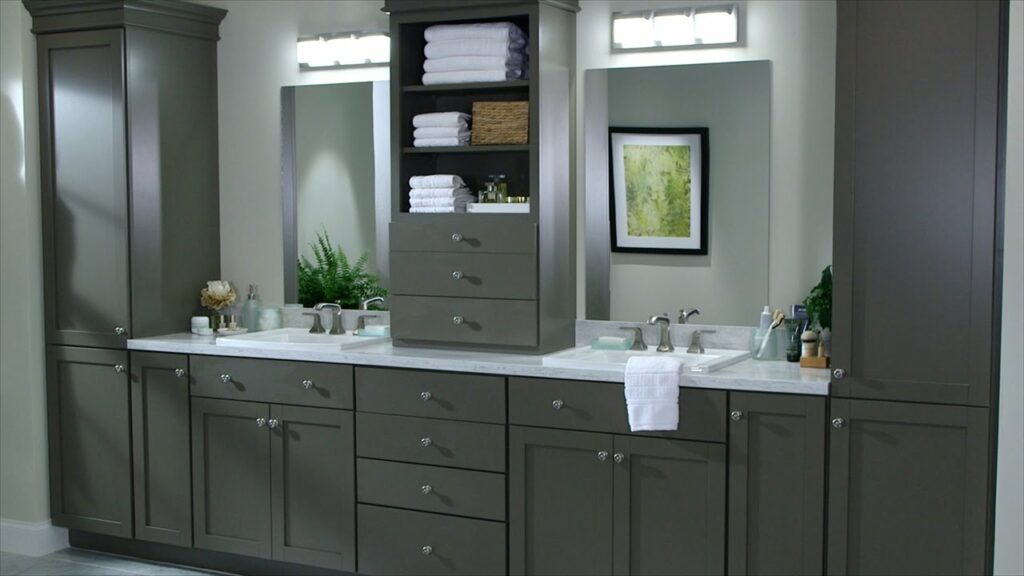 The bathroom is one of the most important rooms in any home. It's a place where we start and end our day, providing us with moments of tranquility and rejuvenation. When it comes to designing your dream bathroom, one crucial element that often gets overlooked is the choice of cabinets. Custom bathroom cabinets can be the perfect solution to elevate both the style and functionality of your space.
Whether you reside in Los Angeles, CA, or any other part of California, you can rely on our company to deliver offer high-quality custom vanity cabinets.
Unleash Your Creativity with Custom Designs
Personalized Style and Design
Custom bathroom cabinets are the key to transforming your bathroom into a stylish and functional oasis. By opting for custom-made cabinets, you have the opportunity to personalize every aspect of their design, from materials to finishes, ensuring a unique and tailored look.
Moreover, custom cabinets maximize storage space, allowing you to make the most of your bathroom's layout. With superior craftsmanship and durability, these cabinets are built to last, offering long-term beauty and functionality.
Don't settle for ordinary cabinets when you can have custom bathroom cabinets that elevate your space to a whole new level.
Experience Quality Craftsmanship and Enjoy a Lifetime Warranty
When investing in custom vanity cabinets, it's crucial to select a company that delivers outstanding support and stands behind its products.
Look for a reputable company that offers a lifetime warranty on their cabinets, providing peace of mind and protecting your investment.
With their attention to detail and commitment to quality craftsmanship, you can be confident that your custom vanity cabinets will endure the test of time.
Enjoy Convenient Online Shopping and Nationwide Shipping
Shopping for custom vanity cabinets has never been easier or more convenient.
Browse through an extensive selection of cabinets online, add your favorite items to your cart, and securely place your order.
The company will handle the shipping and delivery process, ensuring that your custom vanity cabinets arrive at your doorstep in California or anywhere else in the country.
Whether you're remodeling your master bathroom or creating a new space for your children, the convenience of online simplifies the entire process.
Receive Personalized Quotes and Expert Design Assistance
For a truly tailored experience, rely on a reputable cabinetry company that offers personalized quotes and expert design assistance.
Provide them with the necessary details, and they will provide accurate quotes for your custom vanity cabinets while helping you design the perfect cabinets for your bathroom.
Their team of experts can guide you through selecting countertop materials, hardware finishes, and other design elements, ensuring that each detail is thoughtfully chosen to bring your vision to life.
Pay Attention to Detail and Benefit from Expert Installation
Attention to detail is crucial when it comes to installing your custom vanity cabinets. A professional installation team will meticulously install each cabinet, ensuring a seamless and precise fit.
They possess extensive experience working with various construction elements, such as drywall and HVAC systems, and will securely mount your cabinets to the wall.
Skilled craftsmen pay meticulous attention to every detail, from aligning drawers and doors to installing mirrors and hardware, resulting in a flawless finished product.
Find Answers to Frequently Asked Questions and Discover Additional Services
Understanding that you may have questions throughout the process.
Additional Services
Additionally, we may offer additional services such as drawer and hardware upgrades, patio cabinetry, and custom mirror options, further enhancing your bathroom transformation.
Quality & Warranty
When it comes to creating a personalized bathroom oasis with custom vanity cabinets, choose a reputable company like Castle Design Remodeling Inc. that offers the best selection, quality craftsmanship, and exceptional service in California.
Online Shopping
Embrace the convenience of online shopping, benefit from personalized assistance, and enjoy nationwide shipping.
Aesthetics Functionality
Elevate your bathroom's aesthetic and functionality with custom vanity cabinets, and create a space that reflects your unique style and enhances your daily routine.
Custom Bathroom Cabinets
If you are insufficient space in your bathroom and wish to upgrade your cabinetry, please,  contact our Agoura Hills bathroom remodeling professionals at (855) 483-0819. Free estimates are available!
What Sets Us Apart?
Custom work
Personalized service
Over 30 Years Experience
Work directly with the contractor
Complete Bathroom or Kitchen Remodeling in two to three weeks
Remodel Your Kitchen Or Bathroom Today
Request more information on our products.