Transform Your Bathroom with Custom Cabinets: A Guide to Getting Started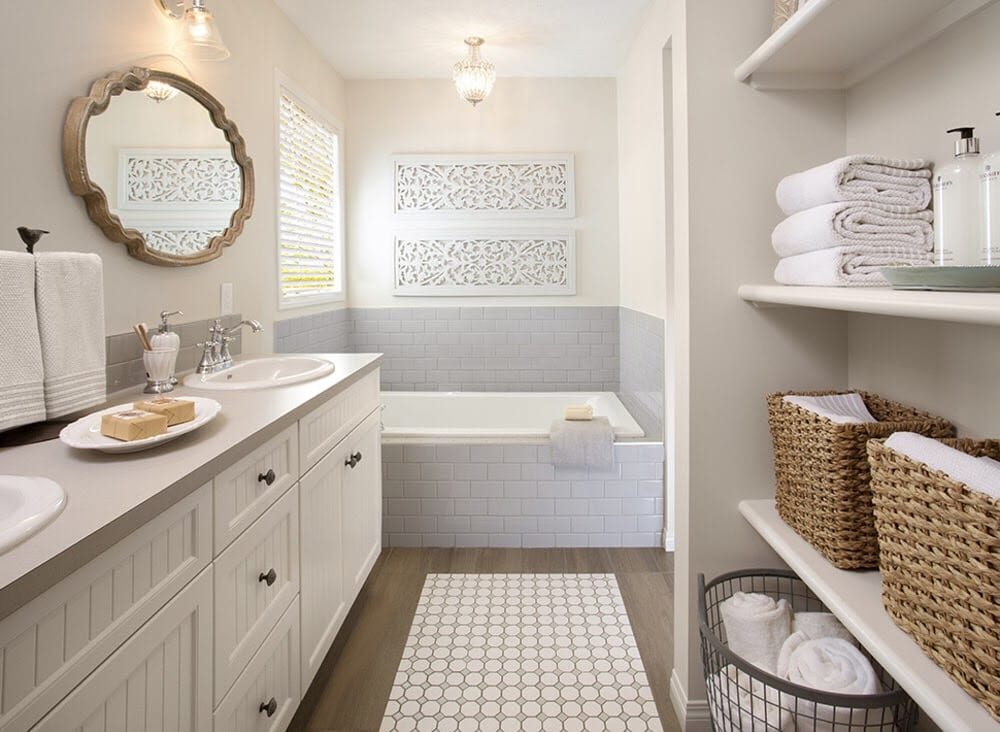 If you're looking to transform your bathroom, custom bathroom cabinets can be an excellent place to start. Not only do they provide valuable storage space, but they can also elevate the overall design and aesthetic of your bathroom. In this guide, we'll take you through the process of getting started with custom bathroom cabinets.
Step 1: Assess Your Needs
The first step in getting started with custom bathroom cabinets is to assess your needs. What do you currently have in terms of storage, and what are you lacking? Are there specific items you need to store that you don't currently have space for? Are there any features or design elements you'd like your cabinets to have? These are all important questions to consider as you begin the process.
Step 2: Determine Your Budget
Once you have a good idea of what you're looking for in terms of custom bathroom cabinets, it's time to determine your budget. Custom cabinets can range in price depending on a variety of factors, including materials, size, and complexity of design. Be sure to set a realistic budget based on what you can afford, and consider how much value the custom cabinets will add to your home.
Step 3: Find a Reliable Cabinet Maker
The next step is to find a reliable cabinet maker to work with. Look for someone who has experience with custom bathroom cabinets specifically and who can provide references or a portfolio of past work. You'll want to work with someone who can understand your needs and preferences and who can guide you through the design process.
Step 4: Choose Your Materials
One of the most exciting parts of designing custom bathroom cabinets is choosing your materials. There are a variety of options available, including wood, metal, and glass. Each material has its own benefits and drawbacks, so consider your priorities when it comes to factors like durability, maintenance, and aesthetics.
Step 5: Design Your Cabinets
Once you've chosen your materials, it's time to start designing your custom bathroom cabinets. Work closely with your cabinet maker to create a design that meets your needs and fits your space. Consider factors like the size and shape of your bathroom, the location of other fixtures like sinks and toilets, and any specific storage needs you have.
Step 6: Consider Additional Features
As you design your custom bathroom cabinets, consider any additional features you might want to include. For example, you may want to incorporate lighting inside the cabinets or on the vanity mirror. You might also consider adding extra drawers or shelves for additional storage. Be creative and think outside the box when it comes to designing your cabinets.
Step 7: Review and Approve the Design
Once your cabinet maker has created a design for your custom bathroom cabinets, take some time to review and approve the design. Make sure it meets your needs and preferences and that you're happy with the materials, design, and additional features included. This is your chance to make any final tweaks before the construction process begins.
Step 8: Construction and Installation
Finally, it's time for the construction and installation of your custom bathroom cabinets. Work with your cabinet maker to determine a timeline and plan for the construction process, and be sure to communicate any concerns or questions you have along the way. Once the cabinets are complete, your cabinet maker will install them in your bathroom and make any final adjustments necessary.
In conclusion, custom bathroom cabinets can be a fantastic way to transform your bathroom and create valuable storage space. By following these steps, you can get started on the process of designing and installing custom cabinets that meet your needs and preferences. With the right materials, design, and features, your custom bathroom cabinets can elevate the overall aesthetic of your bathroom and provide you with the functionality you need.
Why Custom Bathroom Cabinets are the Ultimate Storage Solution
Archives
2023
2022
2021
2020
2016
2015