Garage Conversion to ADU in Agoura Hills, CA
Innovation and inspiration lead to spectacular results
At Castle Remodeling, we pride ourselves on being the premier provider of ADUs in the state. We understand that adding an ADU to your property is a big decision, and we are here to help you every step of the way. Our team of professional artisans has years of experience building high-quality ADUs, and we are dedicated to ensuring that your project is a success.
Throughout the process, we will keep you updated on our progress and ensure that your vision for the finished product is realized. You will have a beautiful Accessory Dwelling Unit that will increase the value of your home when it's time to sell! We are confident that you will be happy with the result, and we look forward to working with you on your next project.
Do you need more living space but don't want to move house?
Garage conversion to ADU could be the ideal solution. We offer a complete service, from design and planning to construction and completion. We can even help with the decoration if you wish.
We have many years of experience in garage conversions and have a team of skilled tradesmen who will carry out the work to the highest standards. We can also offer advice on planning permission and building regulations if required.
At Castle Remodeling: Benefits of an ADU
Allow homeowners to convert an existing space, like a garage, for their use or to rent and earn extra income.
Construction is affordable as it occurs on existing land – no land purchasing required!
Great for families with aging parents or grandparents who need in-home care.
A private space to entertain extended family, friends, or a time out space for when the kids won't settle down!
Increases the value of your existing home and property!
Transform Your Garage Into A Rentable
An accessory dwelling unit, or ADU, is a small living space attached to or detached from the main residence. ADUs can be used as rental units, guesthouses, home offices, or mother-in-law suites. And because they are self-contained living spaces, ADUs can be an excellent source of rental income.
Assuming you have a garage that meets the minimum size requirements, the next step is to start planning the conversion. You'll need to decide what kind of living space you want to create, and what changes will need to be made to the existing garage structure. For example, if you're planning on creating an apartment, you'll need to add windows and a separate entrance. If you're simply looking to create a bedroom or home office, however, fewer changes may be necessary.
Garage conversion to ADU
Do you know it is much cheaper to convert a garage to an ADU in Los Angeles? We handle lots of garage conversion ADUs each year. We know what needs to be done regarding weatherproofing, sound insulation, laying electrical/plumbing/gas, etc.
ADUs, or accessory dwelling units, are a great way to add extra space and value to your home. By converting your garage into an ADU, you can create an additional living space that can be used as a rental unit, in-law suite, home office, or even extra storage space.
Converting a garage into an ADU can be complex, but we are here to help. We have extensive experience handling all aspects of garage conversion ADUs, from weatherproofing and sound insulation to laying electrical, plumbing, and gas lines. We will ensure the job is done right so you can enjoy your new living space for years.
Please contact us today if you are interested in converting your garage into an ADU. We would be happy to provide you with a free consultation and estimate!
For expert advice on your Garage Conversion to ADU, call (818)-991-0361!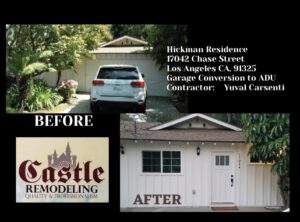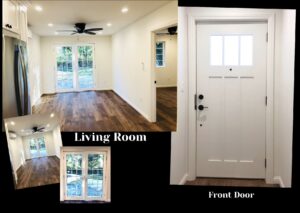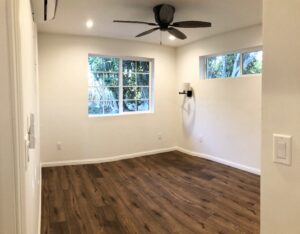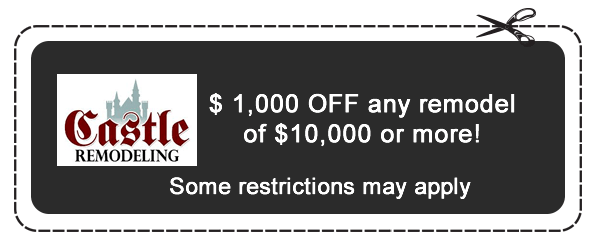 What Sets Us Apart?
Custom work
Personalized service
Over 30 Years Experience
Work directly with the contractor
Complete Bathroom or Kitchen Remodeling in two to three weeks
Remodel Your Kitchen Or Bathroom Today
Request more information on our products.