Semi-Custom & Custom Kitchen Cabinets
Ensure Your Kitchen Stands Out from the Rest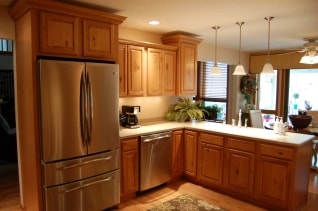 If you are considering remodeling your kitchen, but do not like what the big box stores offer in terms of cabinetry, let Castle Remodeling help! Our team offers custom kitchen cabinets by Waypoint, and we can design your cabinets according to your wishes and budget. We offer a variety of materials and colors from which you can choose, as well as designs and sizes so your cabinets fit within your kitchen seamlessly. Not only do we offer custom work, but also semi-custom cabinetry for quicker installation.

We offer various custom kitchen cabinet designs, such as:
Wood
Modern
Traditional
Contemporary
We strive to build and install custom or semi custom kitchen cabinets that match your home and sense of style so you are more than satisfied with your cabinets. Even if you do not wish to completely remodel your kitchen, and would simply like new cabinets installed, our team can be of assistance!
Please call us at (855) 483-0819 for more information regarding our Agoura Hills kitchen remodeling services.
The Benefits of Investing in Custom Kitchen Cabinets
What Sets Us Apart?
Custom work
Personalized service
Over 30 Years Experience
Work directly with the contractor
Complete Bathroom or Kitchen Remodeling in two to three weeks
Remodel Your Kitchen Or Bathroom Today
Request more information on our products.