Bathroom Remodel in Moorpark
Get the best design for your bathroom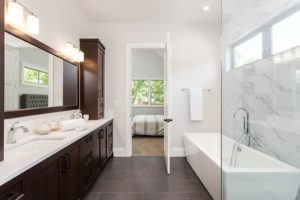 Full Bathroom Remodeling in Moorpark – Bathroom makeover that will take your breath away!
From going through your morning routine to winding down before bed, you end up spending a lot of time in the bathroom each day. If yours has not seen an update since the turn of the century, that can add up to a lot of hours staring at cracked tiles and outdated plumbing fixtures and a bathroom remodel in Moorpark is exactly what you need. You deserve a chance to relax in your own personal oasis, so enlist the amazing services of Castle Remodeling for a stunning bathroom renovation. Our fantastic team has been creating beautiful bathrooms for over 30 years, and we take a great deal of pride in the quality of our work and craftsmanship. From a small bathroom remodel in Moorpark to full bathroom designs, you can count on our extensive knowledge, unparalleled skills, and solid work ethic to complete your project in no time at all. We use Fleurco Bathtubs & Shower Doors.
Professional bathroom renovation – 
live the experience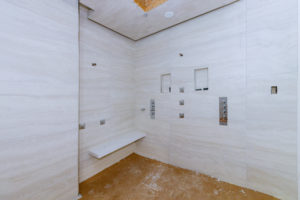 From innovative lighting and plumbing designs to bath and shower renovation services, the experts at Castle Remodeling provide everything you need for a complete bathroom remodel in Moorpark. Using only the best supplies and most advanced tools and techniques, we'll turn your outdated bathroom into one of your favorite rooms in the house! Our designers always keep up with the latest trends and know how to maximize space and comfort while paying close attention to your budget.
Start your project right with the following import bathroom remodel tips:
Determine your exact bathroom needs
When it comes to bathroom remodel in Moorpark you want to avoid making unnecessary changes to your existing layout — the fewer alterations you make, the lower your plumbing costs will be. You have to focus on important things that will give your bathroom the specific upgrades according to your family needs. We want to create the best bathroom remodel in Moorpark experience so we have a couple of clever questions for you to start with, that way you can get more inspiration and ideas for what you want during the construction process. Do you need a bigger bathroom? Do you need a tub? Would you like to add windows? Does the bathroom tile need to be replaced? What's your daily routine? The layout will depend on the answers.
Hire a professional bathroom remodeling service in Moorpark
The best thing about hiring a professional for a bathroom remodel in Moorpark is that they will know how to do everything without elevating the costs. General contractors already have their own set of tools and supplies, so it would be easier for them to come up with a good plan and not waste too much time and effort. Contractors are licensed and will get the construction permits that you will need and most likely they'll have tips and suggestions to get the job done right.
Establish a realistic bathroom remodeling budget.
Budgeting for a bathroom remodel in Moorpark can be a real test of your self-control. One important fact to determine the remodeling cost is the size of your bathroom. This is a major factor when it comes to the cost of a renovation. While having a bigger bathroom can be important, there are plenty of different ideas to create a beautiful space without expanding it. A designer will help you out to develop the right bathroom for your home and budget. Typically, homeowners spend more to renovate master bathrooms since they increase resale value and improve day-to-day function.
The right bathroom finishes can either make or break your space. The finishes that you decide, have a great effect on how your space will feel as well as developing its personality. As bathrooms are an inherently functional space, the plumbing and electrics need to be addressed foremost and can account for much of the spend of a refurb project. However, with some creative woodwork, smart tile treatments, and clever mirrors, the cosmetic elements in a bathroom can be achieved with more dash than cash.
In any type of bathroom remodel, in Moorpark setting realistic expectations will help keep your project as stress-free as possible. Also, remember to keep open lines of communication with your contractor to help ensure the timeline you've determined at the outset is stuck to as closely as possible.
Services we offer include:
Flooring
Lighting
Vanities
Tubs
Showers
Cabinetry
We offer you the best design and experience in your bathroom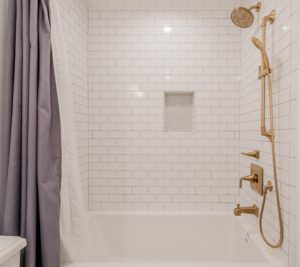 If the existing bathrooms in your home are too small for your family, don't move—remodel! When you hire our team at Castle Remodeling, our amazing designers will sit down with you to discuss all of your bathroom remodel in Moorpark options and budgetary requirements. Once we configure a remodeling plan you love, we can begin your project! All bathroom remodels take about two to three weeks to complete, and one of our owners or professional crew members is always on-site to answer any questions you may have.
Bathroom renovations, Made easy
Castle Remodeling has a full team of experienced professionals that take ordinary bathroom designs to a whole new level with custom and semi-custom cabinetry and flooring. We offer a wide range of cabinets in every size and color to maximize storage options, as well as beautiful bathroom sink and vanity combinations. Top everything off with intricate stone or tile work, and you now have a gorgeous new bathroom that perfectly fits your signature style. We are proud to offer custom and semi custom cabinets by WayPoint

Work with a team you can trust when you hire Castle Remodeling. The only limit to what we can accomplish is your imagination, so bring us your ideas and we will help you create the bathroom of your dreams. Free estimates are available for all our services, so contact our Moorpark  bathroom remodel team today at 818-991-0361!Let's get started on your bathroom remodel! Call (818)-991-0361 today!
Moorpark is a city in Ventura County, California. The population was 34,421 at the 2010 census. Moorpark is located in the eastern Conejo Valley between the Simi Hills and the Tierra Rejada Hills and is part of the Greater Los Angeles Area.
The city began as a community in 1907 when the California Southern Railroad's station was built. The town was named after the Moorpark apricot, which used to grow in great abundance in the area. The city grew slowly until after World War II when housing construction exploded with the coming of the freeway and affordable housing.
There's plenty to do in Moorpark, CA, whether you're a local or just visiting. Here are some of our top picks:
Visit the Moorpark Zoo. The Moorpark Zoo is home to over 200 animals, including lions, tigers, and bears. You can also ride on the zoo train or visit the petting zoo.
Play at Moorpark Park. Moorpark Park is a great place to take the kids, with plenty of playground equipment and a splash pad.
Go golfing at Moorpark Country Club. The Moorpark Country Club offers 27 holes of championship golf, a pro shop, and a restaurant.
Shop at the Moorpark Farmers Market. The Moorpark Farmers Market is open every Wednesday and Saturday and features fresh produce, baked goods, and more.
See a show at the High Street Arts Center. The High Street Arts Center is a local theater that produces shows annually. Check their website to see what's playing during your visit.
What Sets Us Apart?
Custom work
Personalized service
Over 30 Years Experience
Work directly with the contractor
Complete Bathroom or Kitchen Remodeling in two to three weeks
Remodel Your Kitchen Or Bathroom Today
Request more information on our products.