Transformative Tips: Giving Your Old Bathroom Vanity a New Lease of Life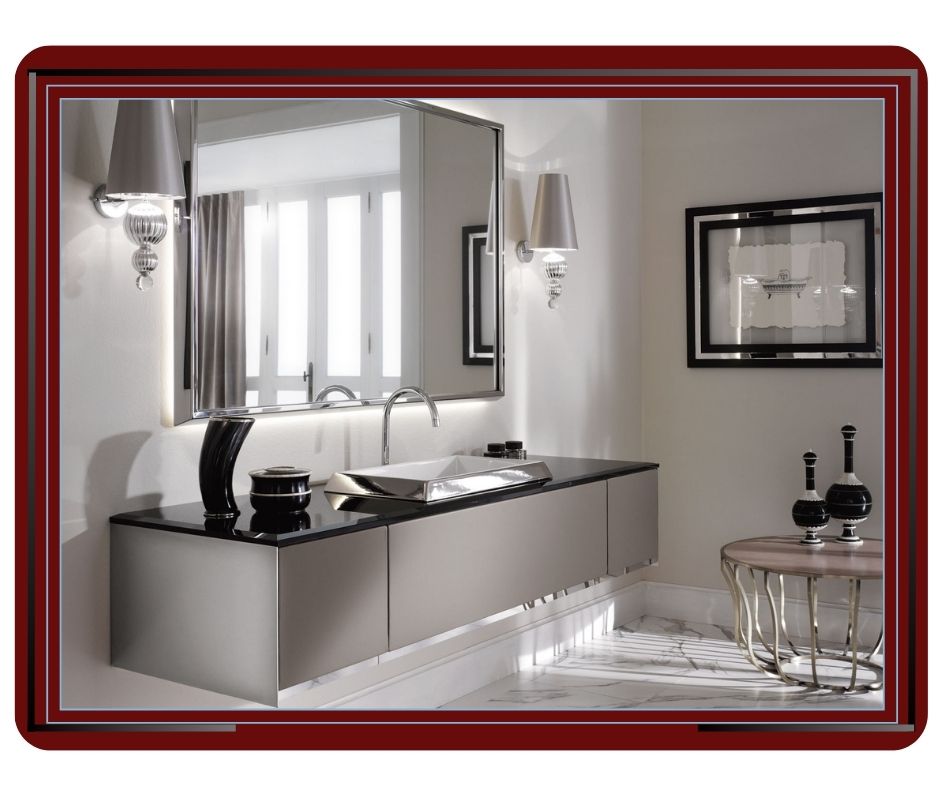 In-home design, bathroom vanities often become the unsung heroes, bearing daily wear while offering a blend of function and style, "Transformative Tips: Giving Your Old Bathroom Vanity a New Lease of Life". As time passes, your once-pristine vanity might show signs of age, from scuffs to outdated designs. But before you consider a complete replacement, let's explore ways to rejuvenate your existing piece. A vanity makeover can be both eco-friendly and budget-friendly, with the bonus of personalization.
A Deep Dive into Paint
A splash of paint can breathe fresh life into an old vanity.
The Color Palette

: While soft neutrals offer classic elegance, you could opt for bold jewel tones or trending pastels to bring a contemporary vibe. Moisture-resistant paints are a must to combat bathroom humidity.

Preparation is Key

: Sand down your vanity before painting to create a smooth surface. An essential step, priming, ensures better paint adhesion, offering a longer-lasting makeover.
Hardware: The Small Change with Big Impact
A simple change in knobs or handles can modernize an older vanity.
Trendy Tones

: Contemporary finishes like rose gold, matte black, or brushed nickel provide a sleek aesthetic edge.

Old-world Charm

: For a touch of vintage, consider ceramic handles or those with ornate designs reminiscent of a bygone era.
Embrace Open Shelving
The addition of open shelves not only offers extra storage but also introduces a design element.
Organized Elegance

: Store bathroom essentials in matching containers or woven baskets for a clutter-free appearance.

Decor Accents

: Introduce plants, decorative vases, or scented candles to turn functional storage into a visual treat.
Countertop Chronicles
Transforming the vanity's countertop can change its entire look.
Stunning Stones

: With its durability and diverse designs, Quartz can be a contemporary choice. Marble, though high-maintenance, exudes luxury.

Budget-friendly Options

: Laminates have come a long way, with designs mimicking natural stone, offering beauty without breaking the bank.
Sink and Faucet Facelift
Modern sink designs and faucets can redefine the vanity space.
Diverse Designs

: Consider a semi-recessed sink for a modern touch or a vintage-inspired pedestal sink.

Faucet Flair

: Waterfall faucets, sensor taps, or vintage brass options can become conversation starters.
Backdrop Beauty with Backsplashes
Backsplashes aren't just functional, protecting against splashes, but also a design statement.
Tile Triumphs

: Geometric patterns, terracotta tiles, or classic white subway tiles can enhance the vanity area.

Alternative Aesthetics

: Consider beadboard or shiplap for a country-chic vibe.
Illuminating Ideas
Adequate and aesthetic lighting can revolutionize the vanity experience.
Layered Lighting

: Combine overhead lights with sconces for well-distributed illumination.

Mirror Magic

: LED mirror lights can add a contemporary edge and ensure perfect lighting for makeup or shaving.
The Art of Repurposing
Blending old and new can offer a distinctive charm.
Furniture Fusion

: Integrate parts of antique furniture, like table legs or old drawers, into the vanity design for a unique touch.

Salvaged Surprises

: Incorporate old door knobs, reclaimed wood, or antique tiles to add a layer of history and charm.
Transformative Tips: Giving Your Old Bathroom Vanity a New Lease of Life
Beyond Renovation – A Vanity Transformation
A bathroom vanity makeover can be more than just a design upgrade; it's a chance to infuse personality, history, and thoughtfulness into your space. You also make an eco-conscious decision by choosing sustainable options or repurposing older materials. So, roll up those sleeves and embark on transforming your bathroom vanity from mundane to magnificent. The process is not just about beautifying a piece of furniture; it's about crafting a story, one brushstroke at a time.
Material Matters: Selecting the Ideal Wood, and Stone, for Your Vanity.
From Classic to Contemporary: Tracing the Evolution of Bathroom Vanities
Archives
2023
2022
2021
2020
2016
2015