Enhancing Accessibility: Garage Door to ADU Conversion for Aging in Place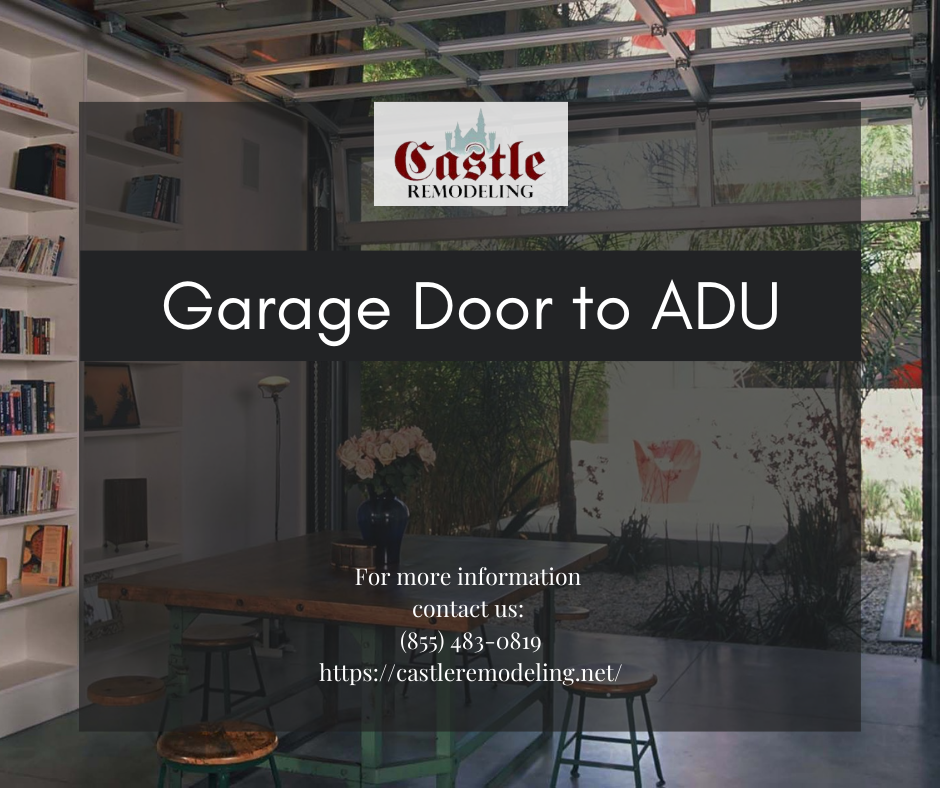 As we age, creating living spaces that support independence, safety, and comfort is essential. One innovative solution gaining popularity is converting a garage door into an Accessory Dwelling Unit (ADU). Enhancing Accessibility: Garage Door to ADU Conversion for Aging in Place. This type of conversion provides a unique opportunity to enhance accessibility and cater to the specific needs of older adults. Let's explore how a Garage Door to ADU conversion can facilitate aging in place and promote a fulfilling and independent lifestyle.
The Benefits of Aging in Place
Aging in place refers to the ability to live in one's own home comfortably and safely as we age. Here are some of the benefits of aging in place:
1. Familiarity and Emotional Well-being
Remaining in the familiar surroundings of your own home can contribute to emotional well-being and a sense of security. The comfort and memories associated with your home can enhance your overall quality of life as you age.
2. Independence and Autonomy
Aging in place allows you to maintain independence and autonomy in decision-making. You can continue living on your terms, manage your daily routines, and make choices that align with your preferences and values.
3. Supportive Community Connections
Staying in your home enables you to maintain social connections within your community. This can include neighbors, friends, and local resources that provide support and companionship. Being part of a familiar community can contribute to a fulfilling and meaningful lifestyle.
4. Cost Savings
Aging in place can often be more cost-effective than moving to a senior living facility or assisted living community. By converting your garage door into an ADU, you can create a separate living space without requiring major home renovations or expensive relocation.
Garage Door to ADU Conversion for Aging in Place
Converting your garage door into an ADU offers unique opportunities for enhancing accessibility and creating an age-friendly living space. Here are some key considerations for a Garage Door to ADU conversion for aging in place:
1. Universal Design Principles
Incorporate universal design principles into the ADU to make it accessible and usable for people of all ages and abilities. This includes no-step entryways, wider doorways, lever-style door handles, grab bars, and accessible bathroom fixtures.
2. Single-Level Living
Design the ADU as a single-level living space to eliminate the need for stairs or multiple levels. This ensures ease of mobility and reduces the risk of falls or accidents. Consider an open floor plan that allows for seamless movement throughout the space.
3. Mobility-Friendly Features
Incorporate mobility-friendly features such as wider hallways, ample maneuvering space in the bathroom and kitchen, and lever-style faucets and handles. Ensure that doorways and pathways are wide enough to accommodate mobility aids such as walkers or wheelchairs.
4. Bathroom and Kitchen Accessibility
Pay special attention to the design of the bathroom and kitchen areas. Install features such as roll-in showers with grab bars, adjustable-height countertops, easy-to-reach cabinets and appliances, and slip-resistant flooring. Consider installing non-slip mats or rugs to enhance safety.
5. Lighting and Safety Measures
Ensure that the ADU has ample lighting throughout to improve visibility and reduce the risk of accidents. Install sufficient lighting in hallways, stairways, bathrooms, and outdoor pathways. Incorporate safety measures such as handrails and motion-sensor lighting for added convenience.
6. Comfort and Convenience
Consider features that enhance comfort and convenience for aging in place. This may include a walk-in closet, easy-to-use thermostats, lever-style faucets, low-maintenance flooring, and ample storage space. Create an environment that supports a comfortable and hassle-free lifestyle.
Investing in Your Future
Enhancing Accessibility: Garage Door to ADU Conversion for Aging in Place
Converting your garage door into an ADU designed for aging in place is an investment in your future well-being. By incorporating accessibility features, universal design principles, and thoughtful planning, you can create a safe, comfortable, and adaptable living space that promotes independence and longevity. Embrace the opportunity to age in place and enjoy the freedom of living in your own home for years to come.
Archives
2023
2022
2021
2020
2016
2015