From Garage to Living Space: A Comprehensive Guide to ADU Conversion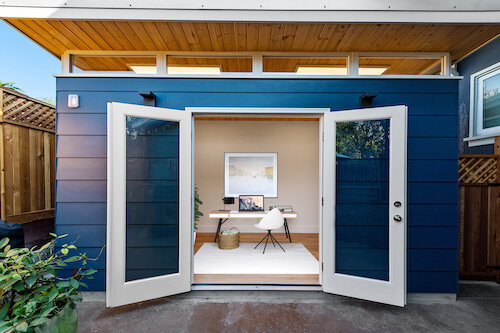 Converting a garage into an additional dwelling unit (ADU) has become increasingly popular in recent years, with many homeowners turning to the solution to increase their living space. Not only is it a more cost-effective way to create new living spaces than building a separate structure, but with proper planning and research, ADUs can be a great way to gain extra income or house family members. In this guide, we'll provide a comprehensive overview on the process of converting your garage into an ADU.
Before embarking on the project, you should decide what type of conversion you're interested in. Depending on your needs and budget, you can choose from several options such as full-scale remodels or small changes like adding electrical wiring and plumbing. The size of the existing garage will also need to be taken into consideration.
The next step is obtaining permits for the work you plan on doing. It's important that you check with your local city ordinances before beginning any construction work as there may be regulations that apply to your particular area when it comes to things like setbacks and parking requirements. You'll likely need permits for electrical work and other types of renovations as well since some cities require these before they will issue building permits for an ADU conversion project.
Once the appropriate paperwork is filed and permits are obtained, it's time to begin construction! Depending on the type of conversion being done, certain steps may include drywall installation, laying down flooring, plumbing alterations/additions for bathrooms and kitchens if needed, finishing windows/doors/ceilings/walls/etc., wiring electrical fixtures like lights and switches, insulating walls and ceilings according to local codes, painting interior surfaces appropriately for ADUs (like using mildew resistant paint), installing air conditioning units (if desired), properly ventilating for optimal indoor air quality standards etc. It's important that all work completed follows proper safety regulations so be sure that all necessary permitting has been obtained prior starting any renovations related work on site.
After construction is finished comes one of the most exciting parts – decorating! When designing your ADU interior look at what fits best within this limited space while still allowing enough room for occupants' comfortability – especially in terms of furniture selection and positioning throughout each room in order not to feel cramped or overwhelmed by clutter while inside them. Think about warm colors like wood tones that give off more natural vibes; comfortable seating arrangements; plenty of storage; subtle decorative accents; rugs & curtains providing additional texture; installing outlets wherever practical; selecting unique lighting fixtures etc… All these visual aspects help make up a complete looking space rather than just have four walls without anything else connecting them together aesthetically speaking wise!
Whether you're looking for some extra rental income or simply expanding your own living space with an ADU conversion project it's important that you understand what goes into achieving success from start finish – from doing all necessary research prior starting any actual physical modifications or giving thorough thought when deciding which type conversions would suit best based upon budget constraints / specific needs & wants etc.. By understanding exactly what goes into each step leading up till completion stage then odds are higher chances will come out having great results afterwards as result!
Unlocking Hidden Value: Garage Conversion to ADU for Homeowners
Archives
2023
2022
2021
2020
2016
2015